In the service for last 24 years, starting with fax machines we have come a long way. since beginning, our motto has always been to : listen,suggest, provide & implement the best solution tailored to meet users needs. providing timely on site/ online support has been the focus for all of us at pis.gradually, we have evolved to provide: access and time management solutions along with host of other security solutions like: surveillance, intrusion detection, entry controlling etc.
With our passion to guide existing & prospective customers with innovative solutions in security we aim to become one of the chosen ones on whom people can put their trust while choosing their security needs in terms of solution based products, be it for their home or office or any large establishment or institution.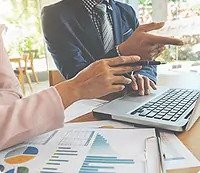 We want them to feel secure & safe when making a choice through us which is going to be user based and not product driven.contact us to know & feel the safety net around you.. it is not always about a sale or purchase. so, letis talk..we listen…..
We are here not to sell a product but to put in place a system designed to make life easier & safer.for this we have tie ups with well known companies in their respective fields and a dedicated team to fulfill the user re$uirements from chosing the product to completing the installtion within the defined time limits.